A lot of time has passed but we are still stuck in Thai burocracy. A local guy in the village refuses to stick to the law for years now. We went there for an explanation but did not get one. He also keeps making new rules we should stick too
At the same time, we are trying to combine our plots of land into one with the top paper rights (Chanotte) and although everybody assures us all is fine, they combined it with some other changes between the forest department and the natural park department. That seems to drag on and on. We were already in touch with the officers in Chiang Mai but now also Bangkok needs to do research. They feel a little heat and did ask us to call back end of this month. In short, no progress yet despite calling and visiting so many times. It's frustrating but let's make it an exercise in patience. Not the best example for Thailand but fair to say the most people try to do their best and try to explain what takes so long. Now it just needs this one village head to obey the laws….
Last year November we were already setting out the foundation but had to cancel again. Let's hope we can start at the end of this years
Finally a little good news: Golf and team have been making our electricity and sanitary designs and delivered the first version.
It took 1.5 year but we are glad we get some motion forward.
At the same time we got a quote for the 'raw' build, meaning foundation, roof and walls, which will already eat our total budget it seems. Hopefully we can still add windows and have something we can camp in. We gave it a go for November.
Unfortunately de building permit is still on the desk of the Moo Baan head who refuses to sign for more than a year now but also does not give us a reason so we can appeal. Contacts and family, other local people all tried to get the man in motion but so far no luck. I guess anyone can guess what he is trying.  Hopefully we can still get it done before November and there is a small chance he might change position after the local elections.
Our Chanotte (Land ownership papers) was also a crazy story:
Land office did their work (nice people) and send it to the forest administration and never got anything back. By accident my niece got her first date and that guy happened to be the son of the previous head of that administration. They went in to ask around and found our papers buried under a pile of other papers. They took it out, put it on top and got the promise someone would look at it the next day. After calling they said it was send to the wrong office and needed to go to the office of nature?? parks. (We are basically in it but did already those checks before.) It has been on the pile for at least half a year...
Anyway it seemed moved agency and probably another pile of paper. The worrying part is that it has to go back to the forest department and then land office again. They said it could take a year, if we would not have interfered that could have been easily 3 years or more...
We will suggest our niece to find a new boyfriend with connections to the other office 🙂
Another surprise was that our local water pipe system with free water from the mountains, turned out not to be so stable with the dry season getting more serious by the year. Now we need to drill a well but for this we need a new permit from the same guy not willing to sign our building permit. What a joy. The well will affect our sanitary drawings but can only be done later, close or at the same time as we are building. Going to be exciting times in many ways this year.
We are also still waiting for a quote from the windowframe manufacturers, when we get that we can assemble it with the other designs and make a final plan voor November.
More, much more to follow!
In Thai:
In English:
Our land is on the mountain road number 1269. (extension of the 3rd ringroad around Chiang Mai.) It starts at 'canal road' not far from the airport in de Han Dong area and leads to Sa Moeng
Its about 12 KM driving along the curves, restaurants and galleries. The last part with pretty steep curves. There is a new resort opposite our entrance called "Flora creek" (which used to be Krisdadoi resort) so easy to look left for that grey building.
Our entrance to the village is a small gate a little hidden on the right side a few hunderd meters further. The road goes up the hill and be carefull crossing it, thai drivers coming down the hill at crazy speeds sometimes.
Going under the gate, drive slowely and keep right until you cross a little river with a sharp turn left afterwards. then keep driving until you cross the same litle river again in the opposite direction. All the way at the end of the road on the left is our property. Right after a little white house (chalet).
Coordinates: 18°46'40.5"N 98°51'36.5"E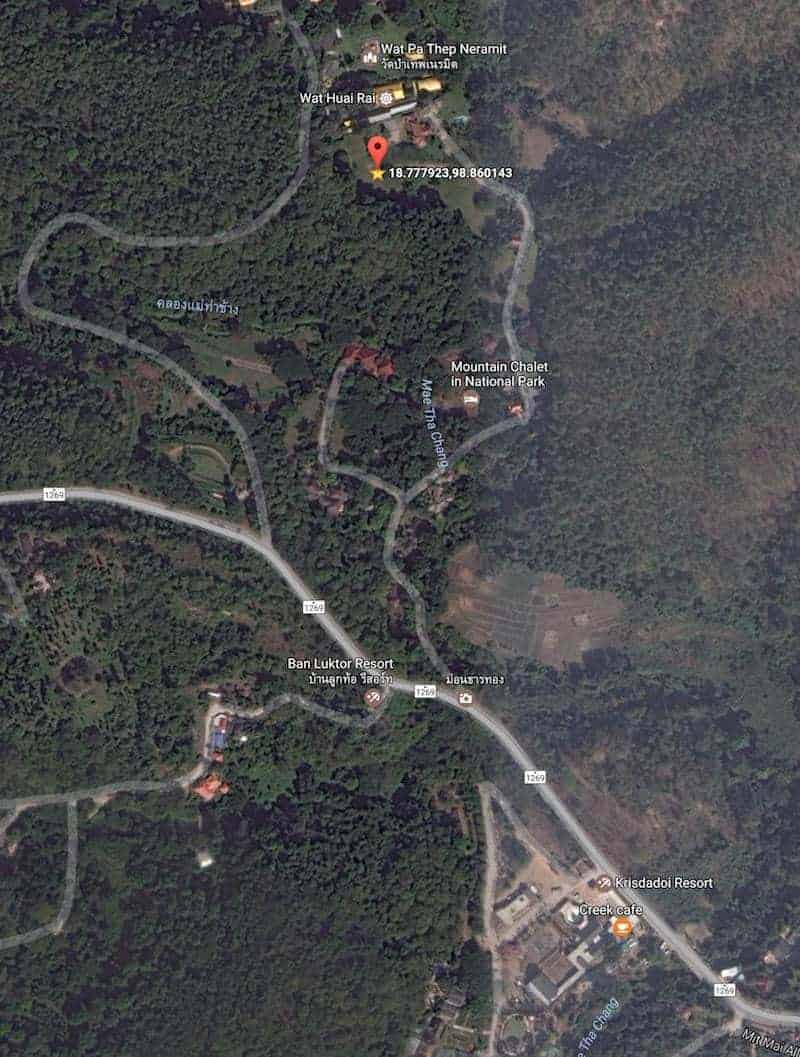 A small tour through our current house in Amsterdam